Which Testing Chamber? TATF vs. SNF
January 2019
JEM Engineering boasts two antenna testing chambers at our facility in Laurel, MD, within easy reach of both Baltimore and Washington DC.
Customers testing at JEM have the advantage of working with our knowledgeable and experienced RF technicians and engineers, who provide guidance and support to the testing experience, as well as assist with data analysis and interpretation. While our experts can easily determine which chamber is suitable for a particular test, it's also helpful to know what each chamber's capabilities are.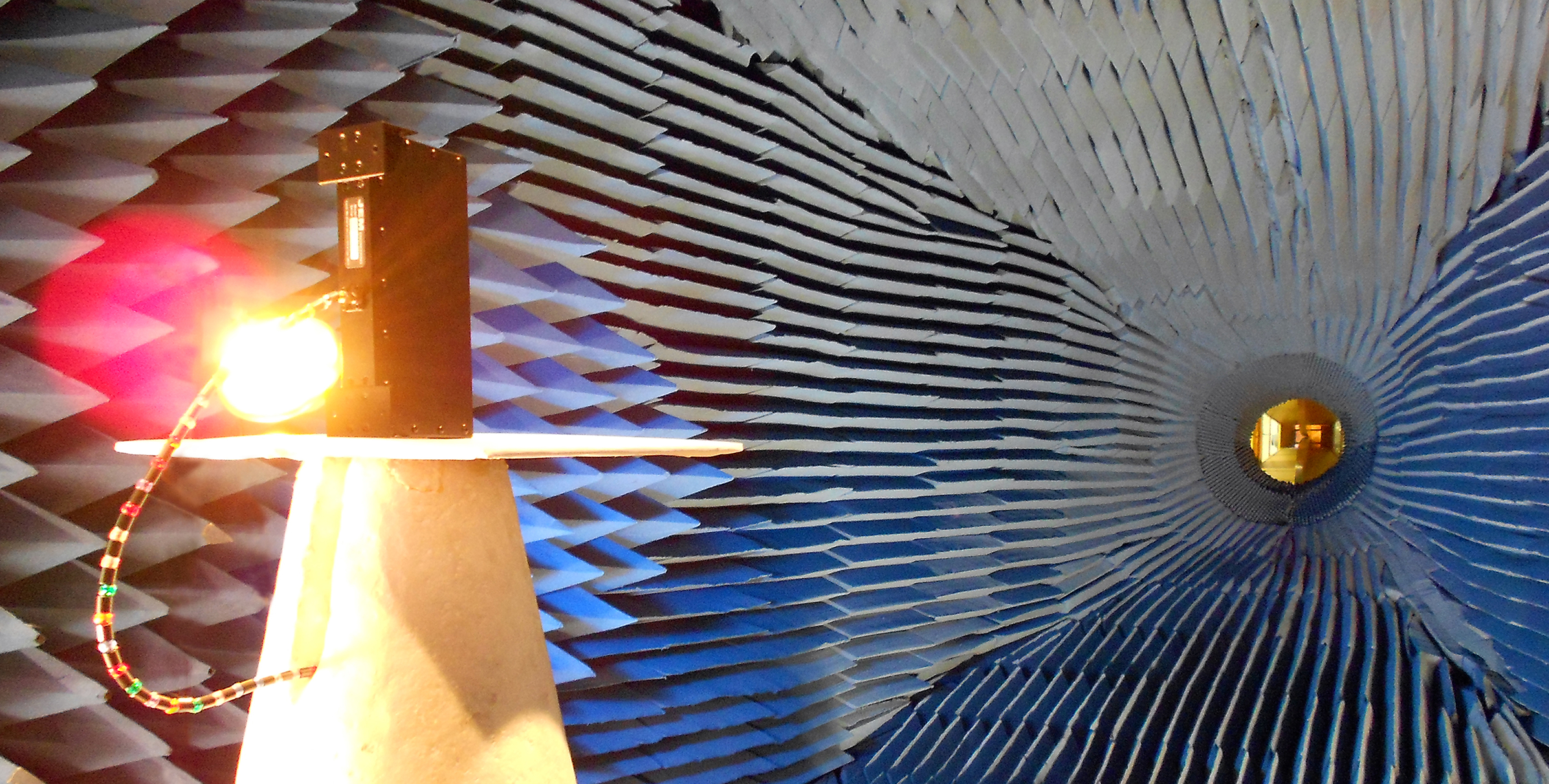 The TATF is ideal for testing over a variety of frequencies.
A Tapered Antenna Test Facility (TATF) Chamber provides powerful validation capabilities over a wide frequency range, allowing the testing of antennas and antenna systems for a variety of applications. Using these tools, we can measure radiation patterns, antenna gain (peak, average, max linear, min linear, H and V) and axial ratio from 80 MHz to 40 GHz.
Measurement accuracy is critical, and the TATF chamber offers accuracy of peak gain measurements ± 1.0 dB from 80 to 400 MHz, ± 0.7 dB from 400 MHz to 1 GHz, and ± 0.5 dB from 1 GHz to 18 GHz. The data analysis and reduction software supports a wide range of outputs, including radiation patterns and swept gain. Our engineers can also produce ASCII data files compatible with third party analysis tools such as MATLAB®, MathCAD® or EXCEL®
Test times depend on the number of frequency points taken, the number of angular steps measured, and the amount of noise correction applied. The max power at the input port of the PNA is +30 dBm; however, we can add a pad in line to allow gain much higher (as much as +110 dBm).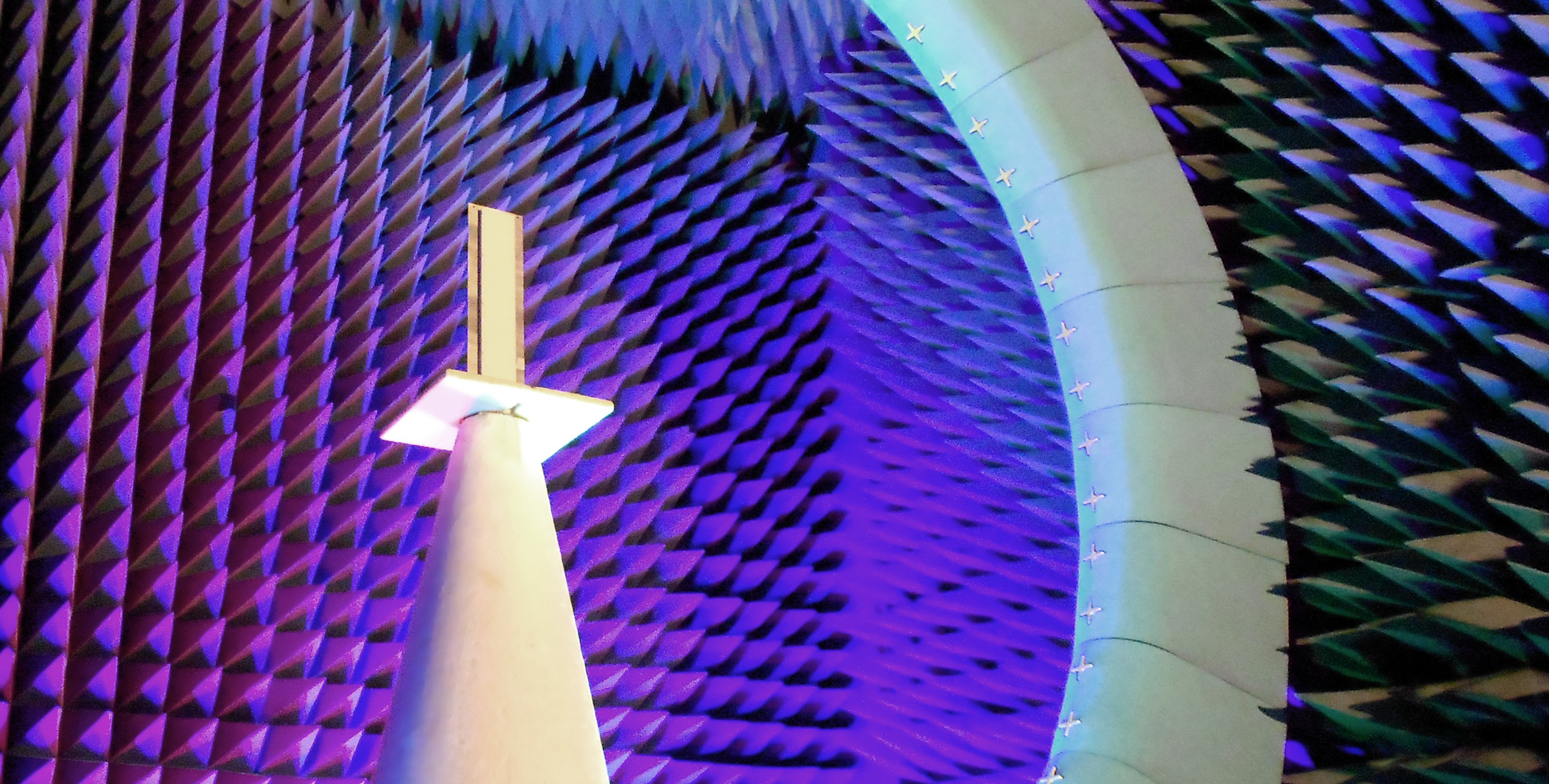 The SNF can test a smaller range of frequencies, but it can complete tests in as little as 15 minutes.
A Spherical Near-Field (SNF) antenna test chamber is the fastest facility available for full 4 pi steradian data collection. It uses an array of electronically scanned probes to scan a full 360-degree measurement plane, giving technicians the ability to complete measurements in minutes rather than hours.
This chamber can perform tests over frequencies from 400 MHz to 6 GHz, enabling testing of antennas for AMP, PCS, GSM, Bluetooth™, IEEE 802.11, GPS and other new and evolving wireless systems.
The spherical chamber at the testing facility at JEM can be customized to work for any antenna. While existing structures are in place that work with testing for most antennae, JEM Engineering also works with customers to custom design fixtures that will work to test any type of device.
The SNF Test Chamber can be used to test antennae with an amplifier or an attenuator, as well as body worn or handheld devices on a subject. By mounting the antennas in free space or on human subjects allows for the measurement of radiation patterns, efficiency, average gain, and any human body interaction to the radiating device. As with the TATF, our engineers can produce test information in a variety of formats.
*25dBi is the ceiling for gain measurements. A pad can be installed in our system to protect the equipment from saturation.
Request A Quote for Testing Services in the TATF or SNF at JEM Engineering
Learn firsthand how JEM Engineering is dedicated to developing and producing top quality antennas for their customers. Contact JEM Engineering for a free consultation and a quote on testing your antenna in the TATF and SNF Chambers at JEM.

UAVs, also nicknamed, "drones," are exceptional at capturing a bird's-eye view. This is one of the reasons why they're popular for measuring.
read more