Month of Giving
September 2017
With the continued onslaught of recent hurricanes, JEM Engineering has announced that we will continue to provide support to relief efforts.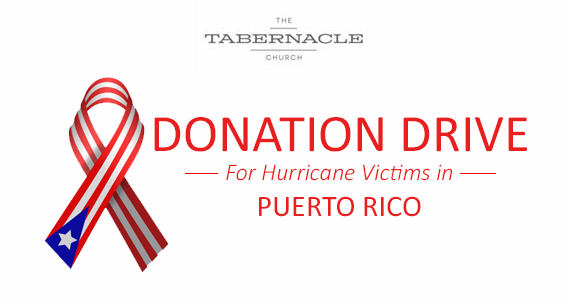 September 25 – October 31, 2017
To further our disaster relief efforts for the victims of Hurricanes Irma and Maria in Puerto Rico, JEM Engineering is participating in a donation drive sponsored by  The Tabernacle Church of Laurel, Maryland.
The church has graciously put together a list of non-perishable items, which they will be collecting indefinitely, as  disaster relief efforts in Puerto Rico continue.
Canned Food
Can Opener
Canned and Powder Milk
Crackers
Canned Juices/Juice Box
Non-perishable Snacks
Plastic Cups, Plates, Utensils
Dog Food
Clothing & Shoes (All ages)
Men & Women Underwear (All sizes)
Towels
Soap
Shampoo & Conditioner
Hair Ties
Flashlight
Batteries
Candles
Lighters/ Matches
Emergency Kits
Medical Supplies
Bottled Water
Insect Repellent
Hand Sanitizer
Garbage Bags
Baby Wipes
Diapers
Baby Bottles
Baby Food
Feminine Pads and Tampons
Tooth Brushes
If you wish to make a monetary contribution, please make checks payable to "Tabernacle Church." The funds collected will be used to purchase the items on the above list.
You may drop-off your charitable donation(s) at the church, located at 11601 South Dr. Laurel, MD 20708.
For additional information, you may contact the event staff by emailing office@tabernaclechurch.net or by calling (301) 490-3838.
This outreach program is no longer active.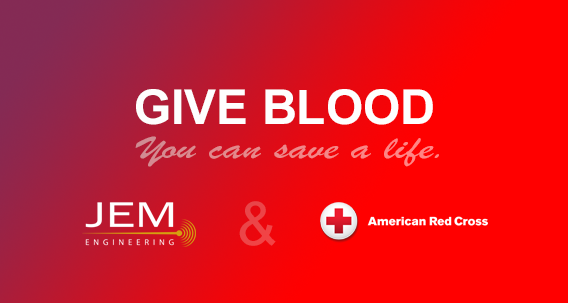 September 12 – October 13, 2017
Please join us for our Blood Drive on Friday, October 13, 2017.
JEM Engineering is also excited to, once again, partner with the American Red Cross to launch the second of what we hope will be many blood drives. We'll be working together to give back to the community in a truly life changing way since each donation we collect can save up to three lives.
We will be sending out more information in the weeks to come. If you would like to participate, or if you have any inquiries please contact us.
There are many ways you can help, but most importantly we hope you come out to donate.
*Although we greatly appreciate every person's interest, we need at least 200 participants in order to make this a successful event! Please feel free to extend this invitation to others!
More about the American Red Cross
The Red Cross has been making a humanitarian impact for more than 130 years, and has been collecting blood for over 70 of those years. We can all be part of something important when we work with the Red Cross to strengthen the blood supply and give back to our community.
Thank you for your support!
This outreach program is no longer active and we have disabled the interest form.
Thank you to all those who participated with us!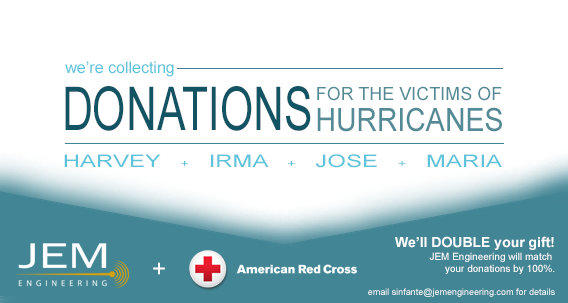 September 11 – October 31, 2017
JEM Partners with the American Red Cross to Support Disaster Relief
JEM Engineering, through the American Red Cross, will be providing financial assistance to households that were severely impacted by recent Hurricanes Harvey and Irma, as well as the impending Hurricane Jose.
As part of our efforts, we are also collecting monetary donations from the community. If you are interested in donating, you may contact us for additional information.
Why donate through JEM? Make your donations go twice as far!
Every gift you make is significant in our disaster relief efforts. We want to double your gifts so that our efforts will move twice as fast! JEM will match donations you make by 100%.
This outreach program is no longer active and we have disabled the interest form.
Thank you to all those who participated with us!
More ways to give
If you wish to send aid to the victims of recent hurricanes Harvey, Irma, Jose, and Maria independently from JEM, this is a short list of trusted resources.
On behalf of these organizations, as well as the people whose lives they save, we thank you kindly for your generosity.